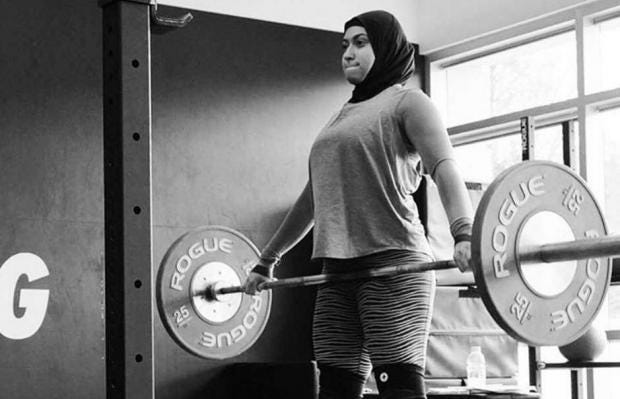 Nike are launching their first Muslim sportswear headscarf, the Nike Pro Hijab – and the response was vocal, to say the least.
According to a Nike statement:
​The Nike Pro Hijab has been a year in the making, but its impetus can be traced much further back to Nike's founding mission, to serve athletes, with the signature addendum: If you have a body, you're an athlete.
But one voice emerges from the discourse as somewhat more relevant: that of Amna Al Haddad, Olympic weightlifter from the UAE.
Along with figure skater Zahra Lari, 27-year-old Al Haddad actually tested the product, which is due to be launched in 2018.
In response to the online furore, the six-time gold medallist shared a statement on her Facebook and Instagram, along with a powerful picture:
It surely will encourage a new generation of athletes to pursue sports professionally, and without us athletes who fought for this right and made it happen, Nike wouldn't "just do it".
Al Haddad told FEMAIL:
I felt that people were confused by the launch and I was inspired to raise awareness that with such a product Nike isn't dismissing anyone else's previous work, or oppressing women, that it is simply including Muslim female athletes who require such a product.

It's an expansion and a beautiful one that Nike is becoming a well-rounded brand that caters to everyone and all sports.
Soure:www.indy100.com