Three major technology trends—mobile phone–enabled platforms, big data, and artificial intelligence (AI)—exemplify how new technologies are transforming conventional modes of healthcare delivery. Mobile applications are replacing activities previously requiring in-person visits, computers are using vast new data streams to personalize treatment approaches, and AI is augmenting disease diagnosis.
Physicians have an important role in deciding where and how these new tools might be best utilized in diagnosing, treating, and managing health conditions. As medicine undergoes a "digital transformation," a foundational review of medical education spanning medical school, residency, and continuing medical education (CME) is needed to ensure that physicians at all stages of practice are equipped to integrate emerging technologies into their daily practice. By evolving medical education today, we can prepare physicians for medicine's digital future.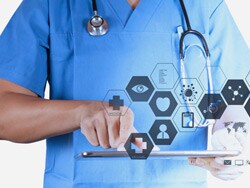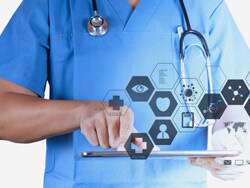 Computers algorithmically diagnosing diabetes from retinal scans[1]; chatbots providing automated mental health counseling[2]; smartphone applications using activity, location, and social data to help patients achieve lifestyle changes[3]; mobile applications delivering surgical follow-up care[4]; and smartwatches passively detecting atrial fibrillation[5] are just a few examples in which technology is being used to augment conventional modes of healthcare delivery.
Many proposals to evolve medical training in a world of continuous technology transformation have focused on specific technologies, such as incorporating telemedicine into existing Accreditation Council for Graduate Medical Education (ACGME) competencies,[6] creating a new specialty of "medical virtualists,"[7] or better integrating data science into healthcare.[8]
Emerging Technologies Transforming Medicine
Looking beyond legacy health information technology platforms like electronic health records (EHRs), active venture capital funding provides a vision for where the community is placing its bets for emerging technologies. We highlight three areas drawing significant investor interest: mobile health ($1.3 billion raised in 2016),[9] big data enabling precision medicine ($679 million),[10] and AI ($794 million).[11]
Mobile health. In a 2015 national survey, 58.2% of smartphone owners reported having downloaded a health-related mobile application[12] from an estimated 259,000 available health-related applications.[13] These applications frequently help patients self-manage their health conditions by providing education, tracking tools, and community support between clinic visits.
Big data enabling precision medicine. Phone-based sensors, wearable devices, social media, EHRs, and genomics are just a few of the many new technologies collecting and transmitting clinical, environmental, and behavioral information. These new contextual data streams are facilitating personalized medical decision-making with treatments tailored to each individual patient.
AI. New computational methods such as AI, machine learning, and neural networks are augmenting clinical decisions via algorithmic interpretation of huge data sets that exceed human cognitive capacities. These new computational technologies hold great potential to assist with diagnosis (interpretation of ECGs, radiology, pathology), personalized treatment (tailoring treatment regimens for individual tumor genotypes), and population health (risk prediction and stratification), though for now they remain software innovations reliant on human clinician hardware to guide appropriate use.[14]
Knowledge Domains
Physicians have an important role in deciding where and how new tools might be best utilized in diagnosing, treating, and managing health conditions. A recent study by the American Medical Association (AMA) found significant physician interest in digital health tools, with 85% of physicians reporting that they perceived at least some benefit from new digital tools in improving their ability to care for patients.[15]
Integrating emerging technologies such as mobile applications, big data, and AI into regular practice will require providers to acquire new knowledge across ACGME educational domains such as Professionalism, Interpersonal & Communication Skills, and Systems-Based Practice.
From a foundational perspective, it is important that physicians understand their role and potential liability as related to these new technologies. This includes but is not limited to:
Understanding relevant laws, particularly state-based regulations concerning remote practice of medicine (ie, telemedicine). (Systems-Based Practice)
Compliance with HIPAA and other key privacy regulations when interacting with patient-generated data outside the bounds of the EHR. (Systems-Based Practice)
Evaluating potential malpractice implications, including assessing coverage scope. (Systems-Based Practice)
Awareness of emerging reimbursement codes for time allocated to new technology–enabled practice models. (Systems-Based Practice)
Outstanding questions remain regarding the clinical efficacy of many new technologies. With formal clinical trials still underway, physicians may feel unable to speak definitively regarding a specific technology's potential risks and benefits. Yet, the increasingly broad use of these tools requires that physicians use their clinical expertise to help their patients understand the limitations of such technologies and steer them toward appropriate tools. Essential skills and roles that modern physicians must now adopt include:
Teaching patients how to identify trusted tools—those using evidence-based guidelines or created in conjunction with credible physicians, scientists, and hospitals (Medical Knowledge)
Setting clear expectations upfront about the extent of physician involvement in reviewing patient-generated data (particularly if there is no anticipated involvement) (Patient Care)
Assessing technology literacy in the social history and adapting patient education on the basis of digital attainment, including recommending websites, online video, and mobile apps when appropriate (Patient Care)
Advancing clinical knowledge by referring select patients to enroll in digital remote clinical trials (Systems-Based Practice)
Taking into account the rapidly increasing amounts of data inputs in clinical decisions, physicians must augment their statistical knowledge to become generally familiar with new data science methods:
Leverage data science tools such as visualization to more efficiently review large amounts of patient data, including identification of outliers and trends (Medical Knowledge)
Seek to understand the inputs and assumptions of advanced computational algorithms and not allow them to become a black box. Recognize that although deep-learning algorithms can deduce important patterns and relationships, physicians remain necessary as a critical lens in deciding how to apply findings to each individual patient. (Patient Care)
Implications for Physicians
For current medical students and trainees, many of whom are digital natives themselves, the educational domains outlined above may seem intuitive or obvious. In contrast, physicians currently practicing today are already burdened with countless administrative tasks that may make these future technologies feel overwhelming or irrelevant. Yet, the frustration and feelings of burnout that many physicians have as related to the use of EHRs exactly illustrates why it is critically important that physicians engage early in the dissemination of new technologies.
The first step for providers in the digital transformation of medicine is awareness. While providers may not be aware of, or are dismissive of, new technologies, these tools are already being used avidly by millions of patients around the world.[11] Mobile health, big data, and AI soon will become an integral part of medicine, much like EHRs (and stethoscopes).
The second step is for physicians to familiarize themselves with general categories of new digital tools. New journals such as the Journal of Medical Internet Research offer peer-reviewed manuscripts focused on "eHealth and healthcare in the Internet age." Physicians may benefit from downloading and signing up for test accounts of new applications or connected health devices. Organizations should consider allowing physicians to spend a portion of their CME budgets on such "digital transformation" learning activities.
The third step is for physician leadership organizations to work with regulatory agencies like the FDA to help identify the most robust tools for physicians to adopt and recommend. A positive example of this is the AMA's recently issued guidelines on the appropriate use of digital medical devices.[16]
By evolving medical education today, we can prepare physicians for medicine's digital future. In the face of complex and rapid change, we may all be trainees in a world of ever-accelerating technological evolution.