A previously unrecognized contiguous organ in the form of fluid-filled interstitial spaces lining the dermis, gut, lungs, and urinary tract, as well as surrounding blood vessels and the fascia between muscles, has been identified for the first time, a new study shows.
The identification of what researchers are calling a "new organ" will significantly alter scientific understanding of how the interstitial space functions in the body and its contribution to health and disease, researchers predict.
"The interstitial space is the primary source of lymph and a major fluid compartment in the body," Petros Benias, MD, director of endoscopic surgery, Northwell Health, New York City, and colleagues observe.
"[W]hile typical descriptions of the interstitium suggest spaces between cells, we describe macroscopic visible spaces within tissues — dynamically compressible and distensible sinuses through which interstitial fluid flows around the body," they add.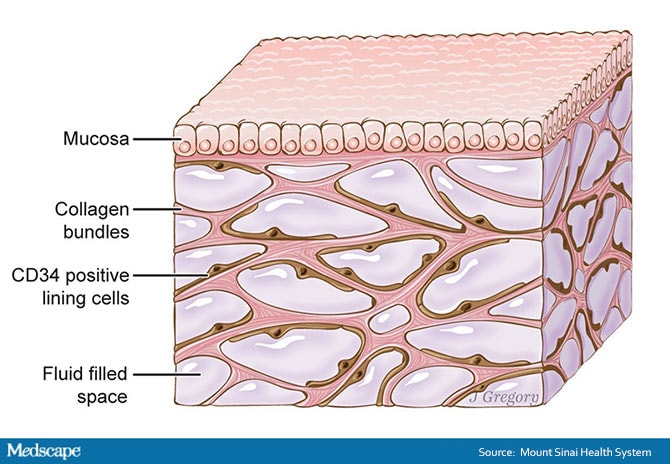 "Our findings necessitate reconsideration of many of the normal functional activities of different organs and of disordered fluid dynamics in the setting of disease, including fibrosis and metastasis," the investigators declare.
The research was published online March 27 in Scientific Reports.
Fixed Tissue on Slides
As the investigators explain, researchers have long relied on fixed tissue mounted on microscope slides to examine tissue histology.
This tissue is prepared by treating it with chemicals, slicing it thinly, and dyeing it to highlight features of interest — a "fixing" process that brings to light details of cells and structures but that drains away any pre-existing fluid that might have been present before the fixing process.
But removing fluid as slides are normally fixed causes the connective protein meshwork surrounding compartments once filled with fluid to pancake, like the floors of a collapsed building, the authors point out.
"This fixation artifact of collapse has made a fluid-filled tissue type throughout the body appear solid in biopsy slides for decades and our results correct for this to expand the anatomy of most tissues," co-senior author Neil Theise, MD, NYU Langone Health in New York City, said in a statement.
The ingeniousness of the current research was how researchers overcame the artifactual collapse of these fluid-filled compartments.
To do this, the team used a new form of microscopy known as probe-based confocal laser endomicroscopy (pCLE), an in vivo imaging technique that allowed them to evaluate the histology of tissue during endoscopy in "real-time."
"Samples were obtained from surgical specimens of bile ducts resected during twelve pancreatico-biliary surgeries," the investigators note.
Just before the surgical specimen was resected, patients were infused with fluorescent dye (fluorescein) and then the reticular pattern was directly visualized in situ through the use of pCLE.
Embedded specimens were subsequently rapidly frozen, prepared, and then visualized under routine fluorescence microscopy.
Microscopy revealed "that the reticular pattern correlated with thick, fluorescein-stained bundles," the researchers report.
Further staining confirmed that the presence of collagenous bands separated open, formerly fluid-filled spaces.
The researchers also note that the reticular pattern appeared within 30 seconds of dye infusion — about the same time that lymph nodes are visualized but later than when vascular structures are seen.
"This suggests that it is a form of interstitial space in which interstitial fluid or 'pre-lymph' accumulates or forms," they comment.
Further study revealed that the collagen bundles observed on staining are asymmetrically lined on one side by thin, flat cells and that these cells adhere directly to the underlying collagen bundles; the opposite side, in contrast, is directly exposed to fluid in the space.
The same histologic features researchers documented in their initial bile duct specimens — spaces filled with fluid with collagen bundles lined by flat cells — were subsequently identified in many other tissues, including the dermis in resected specimens of skin and in submucosa of the entire digestive tract, the bladder, peribronchial tissue, fascia, and stroma of arteries and veins of all sizes.
Prelymphatic Spaces
As the investigators document, the prelymphatic nature of these newly observed fluid-filled spaces was further elucidated by analyzing stage T2 invasive tumors of the stomach and skin.
"Stage T2 invasion of the stomach is defined as invasion into the submucosa but not deeper," they explain, while  "T2 invasion into the skin, likewise, indicates invasion directly into the dermis, but no deeper."
Despite observing no lymphovascular invasion in 2 of these specimens, researchers detected metastatic disease to a draining lymph node in each of them — a sign that these prelymphatic spaces can serve as a conduit through which cancer can spread, they suggest.
"Our data comparing rapidly-biopsied and frozen tissue with tissue fixed in a standard fashion suggest that the spaces we describe, supported and organized by a collagen lattice, are compressible and distensible and may thus serve as shock absorbers," the investigators observe.
The function of these "shock absorbers" is to keep tissue from tearing as organs, muscles, and vessels squeeze, pump, and pulse as part of daily function, they suggest.
The researchers also note that a submucosa subjected to directional, peristaltic flow may facilitate movement of cells, including tumor cells, through the interstitium, "raising the possibility that direct sampling of the interstitial fluid could be a diagnostic tool."