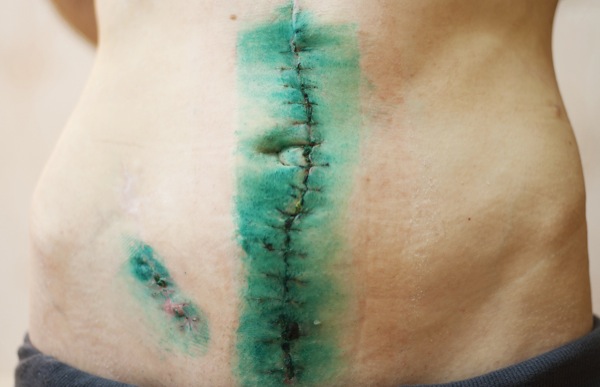 A randomized controlled trial has shown that patients are less likely to develop an incisional hernia in the 2.5 years after a laparoscopic colectomy when they have a transverse instead of a midline specimen extraction site.
The findings confirm results from smaller retrospective studies, but offer the strongest evidence demonstrating that extraction site location significantly affects incisional hernia risk.
The study also highlights the need for careful selection of patients who undergo transverse incisions.
In an intent-to-treat analysis, investigators found no significant difference in incisional hernias between midline and transverse incisions one year after surgery. This may be explained by the high number of patients randomly assigned to a transverse incision who were switched to a midline, open or Pfannenstiel incision, indicating the transverse incision is best reserved for selected patients.
"These results suggest that while a transverse incision results in less internal hernias compared to midline, it is less versatile and may only be feasible in select patients," wrote Lawrence Lee, MD, PhD, and his colleagues from the Steinberg-Bernstein Centre for Minimally Invasive Surgery and Innovation, McGill University Health Centre, in Montreal.
The study is published online in the Annals of Surgery (2017 Nov 21. [Epub ahead of print]).
Dr. Lee and his colleagues randomly assigned 165 adult patients to a transverse (n=79) or midline (n=86) specimen extraction site, of which 141 completed one-year follow-up. Eligible patients underwent an elective laparoscopic right hemicolectomy, left hemicolectomy or rectosigmoid resection for malignant or benign disease, and did not have inflammatory bowel disease, emergency surgery, mid to low-rectal resection, transverse colectomy, single-incision laparoscopic surgery, planned stoma, ASA class IV to V status or morbid obesity. They could not participate in another trial that would have influenced the results.
Twenty-three of the 79 patients allocated to transverse were converted to open (n=15), or received a midline (n=10) or Pfannenstiel (n=8) incision.
With one year of follow-up after surgery, 141 patients were included in the intent-to-treat analysis, including 68 in the transverse group and 73 in the midline group. The incidence of incisional hernias was similar between the transverse group at 2% and the midline group at 8% (P=0.065). With a mean follow-up of 29.9 months in the transverse group and 30.6 months in the midline group, the incidence of incisional hernias was 14% in the midline group and 6% in the transverse group. Of the four patients who developed incisional hernias in the transverse group, only one underwent a transverse incision and three were converted to midline laparotomy during the initial surgery.
The per-protocol analysis at one year included 117 patients—52 in the transverse group and 65 in the midline group—with incisional hernia rates of 2% and 9%, respectively. Mean follow-up time in the per-protocol analysis was 29.1 months in the transverse group and 29.9 months in the midline group. At that time, incisional hernia incidence was 2% after transverse and 15% after midline incisions (P=0.013).
Conor P. Delaney, MD, professor of surgery and chair of the Digestive Disease and Surgery Institute of the Cleveland Clinic, in Ohio, said the study brings a new level of evidence to an idea that surgeons believe intuitively.
In 2013, he and his colleagues published a retrospective review of 280 laparoscopic colorectal procedures over a six-year period (Am J Surg 2013;205:264-267). They reported that midline hernia rates, although lower than with traditional open surgery, were higher than non-midline rates.
Non-midline incisions are a "very simple way to help patients' long-term outcomes become improved," he said, adding that non-midline incisions also tend to cause less pain.
"This study is a really good reminder of the high level of evidence that, wherever possible, we've got to get incisions away from the midline."
The investigators said the number of incisional hernias throughout the study period was lower than in previous studies, and may reflect the low rates of surgical site infections (SSIs), a known risk factor for the development of incisional hernias. During the five years when patients were being enrolled in this study, SSIs were the target for multiple quality improvement initiatives at the study institution.
The investigators noted that they did not use the small bites technique, which has been shown to result in fewer incisional hernias after primary midline fascial closure. "It is unknown whether application of the small bites technique would have altered the result," they wrote.
Patients in the transverse group reported higher scores in body pain (denoting less pain) and social function domains on the Medical Outcomes Study 36-Item Short Form Health Survey. Patients with midline incisions reported better cosmesis scores, although body image scores did not differ.
"There is a trade-off between cosmesis and risk of incisional hernia that should be important elements of the informed consent process for patients undergoing laparoscopic colectomy," they wrote.
In the midline group, the umbilical port site was sharply extended using electrosurgery through the linea alba to create a periumbilical midline extraction incision. In the transverse group, an incision was created lateral to the linea semilunaris and rectus sheath. The external oblique aponeurosis was divided parallel to its fibers, and the internal oblique and transversus abdominis split in the direction of their fibers.
An independent surgeon who was not involved in the clinical care of the patient performed the hernia assessment by physical examination, as neither patient nor health care providers could be blinded to group assignment.
Reduced rates of incisional hernia was a hoped-for benefit of the smaller incisions enabled by laparoscopic surgery. However, laparoscopic versus open colectomy randomized trials have not demonstrated a difference in the incidence of incisional hernias with long-term follow-up.
A Cochrane Review of randomized trials comparing midline with transverse incisions concluded that transverse incisions were less painful, had less effect on pulmonary function, and were associated with a decreased incidence of incisional hernia compared with midline incisions, but these data involved open surgery only (Cochrane Database Syst Rev 2005;[4]:CD005199).